Yukon Type Solitaire Games
A Complete Guide to the Yukon Type Games in Pretty Good Solitaire
The move all uncovered cards game

Yukon is a popular game similar to Klondike. The main characteristic of Yukon and other games like it is the ability to move all uncovered cards as a group, regardless of any sequence.

Learn more about Yukon »




Yukon Type Games
Each Yukon type game in Pretty Good Solitaire is classified into a subgroup here. Some games may belong to more than one subgroup.
Building by Suit - Russian Solitaire Type
Building Up or Down - Alaska Type
Other Building Methods
Australian Patience Type
Other Games

Adelaide
Outback with a redeal


Move 13 Card Units to Foundations
Other Yukon Type Games
Other Games

Nunavut
protected cards like Indian Patience

Yukon Kings
Yukon Spider with wrapping

Milligan Yukon
Miss Milligan with Yukon group moving

Caramel
Geoffrey with a different initial deal


---
Download Pretty Good Solitaire
Download Pretty Good Solitaire Now
Windows

Version 22.1 - August 8, 2023 - 1070 Games
Mac

Version 3.7 - September 7, 2023 - 900 Games
iPad

Version 1.70 - November 2, 2021 - 800 Games
---
100% Clean
Our downloads contain only our games and no other software. No files other than those required to run our games are installed.
---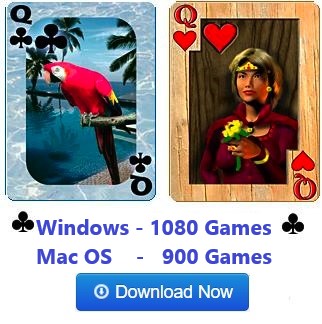 ---
Subscribe to our Newsletter
Sign up for the free Goodsol email newsletter and get our free Cat Card Set!
And there is a Dog Card Set too!
---

Goodsol.com
- Solitaire the Way it Was Meant to Be
Copyright ©1995-2023 Goodsol Development Inc., PO Box 9155, Springfield IL 62791. All Rights Reserved.