About Suit Yourself Solitaire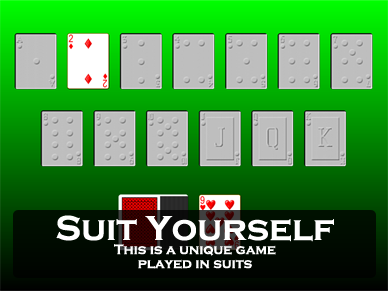 Screen shot of the game Suit Yourself from Pretty Good Solitaire.
Suit Yourself is a unique easy one deck game.
How to Play
At the start of the game all of the cards form a stock. The first card is turned over and placed on one of 13 foundation piles. These piles are to be built up in alternate color from the first card moved to each pile. Each pile corresponds to a rank (Ace, Two, Jack, etc). In game #1, for example, the first card is the Queen of Spades. The Queen is automatically moved to the Queen foundation pile.
The remaining piles are then to be started with the same suit as this first card. So in game #1, all the other piles will be started with Spades. Once a Spade is moved to its proper numbered pile, it is built in alternate color until each pile contains all four cards of that rank.
The game is won when all of the cards are moved to the 13 foundation piles. There is only one redeal.
The game begins by going through the stock looking for cards of the same suit as the first card, in game #1, this is Spades. All Spades are moved out as they come up to the foundations, then you begin looking for alternate color builds on those cards. The game can be won most times.
Variations of Suit Yourself