About Sixteen Piles Solitaire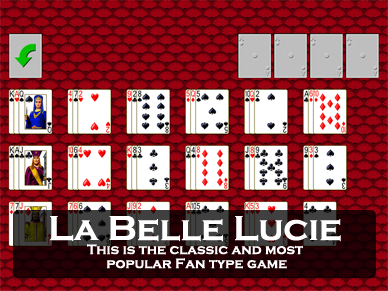 Screen shot of the game La Belle Lucie (similar to Sixteen Piles) from Pretty Good Solitaire.
Sixteen Piles is a Fan type game.
How to Play
At the beginning of the game, the 4 Aces are dealt to the foundations and the remaining cards are dealt 3 each to 16 tableau piles. All of the cards are face up and dealt in fans similar to the games Fan or La Belle Lucie.
The foundation piles are built up in suit from the Aces to Kings, as usual. The game is won when all cards have been moved to the foundations.
The building in the tableau is rather different from most fan type games. Rather than building down, tableau piles are built by playing cards only on other cards of the same rank. For example, you play a Four on any other Four. Empty spaces in the tableau are not filled.
After all possible plays have been made, redeal by clicking on the green arrow in the upper left corner. All the cards in the tableau fans are reshuffled. The reshuffle works in the same way as in the game La Belle Lucie. There are two redeals.
Sixteen Piles is one of the 850 games in Pretty Good Solitaire.
Variations of Sixteen Piles