About Scotch Patience Solitaire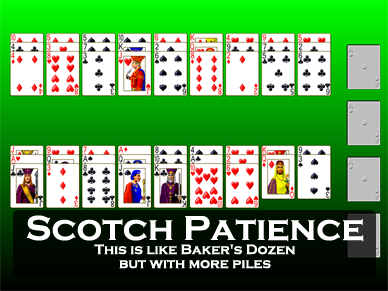 Screen shot of the game Scotch Patience from Pretty Good Solitaire.
Warning! - Pretty Good Solitaire may be addictive. We are not responsible for lost productivity, neglected spouses, children, or pets. We are not responsible for lost sleep because you stay up to play "just one more game".
Scotch Patience is a game similar to the classic game Baker's Dozen.
How to Play
There are four foundation piles. These piles will be built up in suit from Ace to King. The game is won when all cards are moved here.
There are 18 tableau piles. At the start of the game three cards are dealt to each pile, except for the last two piles, which only have two cards. All of the cards are face up, making Scotch Patience an open game. The many small piles also make the game similar to Fan.
Building is down regardless of suit and only one card at a time may be moved. Spaces are not filled.
An average player wins Scotch Patience about 50% of the time, but much higher scores are possible.
Variations of Scotch Patience