About River Doon Solitaire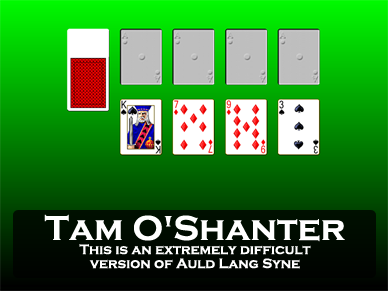 Screen shot of the game Tam O'Shanter (Similar to River Doon) from Pretty Good Solitaire.
River Doon is one of the new games in version 15.1 of Pretty Good Solitaire for Windows. It is also one of the games in the new Sir Tommy Type game group.
How to Play
River Doon is a one deck game with 4 foundation piles. The object is to build these 4 piles up regardless of suit from Aces to Kings.
There are four tableau piles. At the start of the game, one card is dealt face up to each pile. The top card of each pile is available for play on the foundations, but there is no building in the tableau. The remainder of the cards form a stock. Click on the stock deals one card to each tableau pile, burying any cards already there.
When the stock is empty, there are two redeals.
River Doon is simply the game Tam O'Shanter with two redeals. Tam O'Shanter is a very difficult game - it is only very rarely won. Adding two redeals gives you a fighting chance to win the game, although it remains difficult. River Doon is also very similar to the popular game Acquaintance. In fact, it is the same as Acquaintance except that the Aces are not dealt to the foundations at the start of the game. This makes River Doon a somewhat harder game than Acquaintance. Acquaintance is itself simply the game Auld Lang Syne with two redeals.
Variations of River Doon