About Granada Solitaire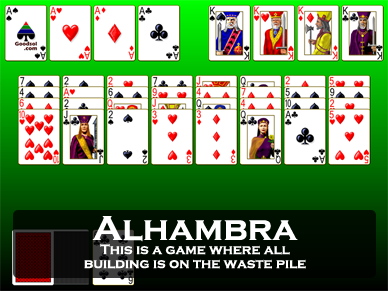 Screen shot of the game Alhambra (similar to Granada) from Pretty Good Solitaire.
Granada is a two deck variation of the classic game Alhambra.
How to Play
In Granada, 4 Aces and 4 Kings (one of each suit) are put out to form 8 foundation piles. The aces are built up in suit and the Kings are built down in suit. Then 4 cards each are dealt to 8 reserve piles. The remaining cards form a stock. In addition, the game begins with 4 empty cells.
The cards in the reserve piles can be played to the foundations (if possible) or moved to the cells. There is no building in the reserves. However, you can build on the cells up or down in suit, wrapping from Ace to King or King to Ace.
When play comes to a standstill, click on the stock to deal a card to the top of each cell. There are two redeals.
Play consists of moving cards from the reserves to the foundations if you can. Then move cards from the reserves to the cells if that can free up a card to move to the foundations. When nothing more can be done, deal more cards to the cells. When the stock is empty, all the cards in the cells will be picked up to form a new stock in the redeal, therefore all the cards in the cells will become available again (until the last redeal).
Granada is a fairly easy game to win. Alhambra is a much tougher game. Alhambra is like Granada except there is only one cell (considered a waste pile), rather than four. A 2% winning percentage is a great percentage for Alhambra.
Variations of Granada