About Algerian Patience Solitaire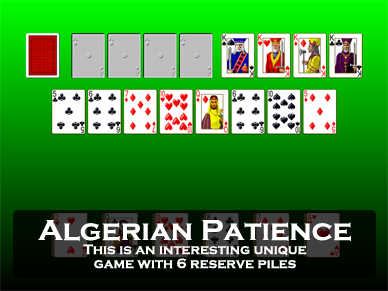 Screen shot of the game Algerian Patience from Pretty Good Solitaire.
Algerian Patience is a unique two deck game.
How to Play
There are eight foundation piles, the first 4 piles are to be built up in suit from Ace to King, and the other 4 piles are to be built down in suit from Kings to Ace. A King of each suit is dealt to the second set of piles, but the Ace piles remain empty. The object of the game is to move all of the cards to the foundation piles.
There are eight tableau piles. At the start of the game 1 card is dealt face up to each pile. Building is up or down by suit, wrapping around Ace to King or King to Ace as necessary. Only one card at a time may be moved. Spaces may be filled by any available card.
There are also six reserve piles. At the start of the game six cards are dealt face up to each pile, all are face up but only the top card is visible. The top card of each reserve pile is available for play on the foundations or tableau. When a pile becomes empty, a single card can be stored there, as in a cell (like FreeCell).
The remainder of the deck forms a stock. Clicking on the stock deals 2 cards to each reserve pile, except for the last time, in which it deals one card to each tableau pile.
Algerian Patience can be won most of the time and the score for an average player is about 96%, however it is not as easy to win as that winning percentage would make it appear. Sometimes AutoPlay works against you and you may be better off with AutoPlay off.
Variations of Algerian Patience